Have risen since 1850 by ~ 0.8 °C (1.44°F)
https://royalsociety.org/topics-policy/projects/climate-change-evidence-causes/question-1/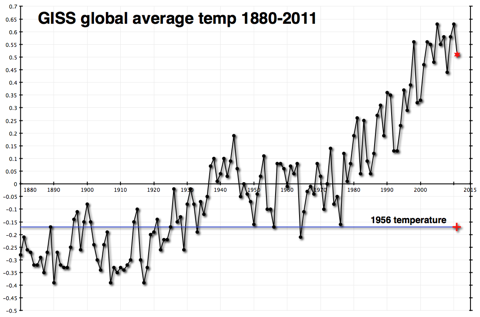 Look at the way the figures leap up the page…. that's really scary !!!
(so James Hanson & Al Gore must be right, "the seas will boil" "Antarctica will be the only place to live" !! )
Well maybe not –
Look at the distorted side scale; it doesn't show average temperatures
…it only shows the 0.8 °C difference over 130 years (0.006 °C/yr)
Now, this is what the same 0.8 °C (1.44°F) global warming really looks like,
When viewed on a proper graph showing average temperatures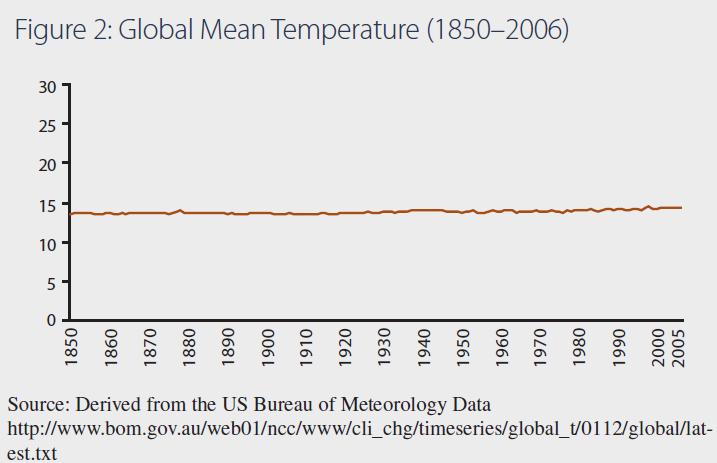 http://catallaxyfiles.com/files/2012/05/Mean-Temp-1.jpg
The Lloyd study looked at the last 80 centuries and found nothing unusual or unprecedented about our slight recent warming. In fact he found about an average 1 C deviation per century.
Our warming comes after the end of one of the coldest periods of the last 10,000 years, called the Little Ice Age (LIA). And the HAD 4 data only shows about 0.8 °C since 1850.
Here's the Lloyd study –
'An Estimate of the Centennial Variability of Global Temperatures' – 8 pages- https://www.researchgate.net/publication/276276180_An_Estimate_of_The_Centennial_Variability_of_Global_Temperatures
A close-up of the recent anomaly.
Showing "the pause"
No global warming for 18 years 8 months; full explanation – https://wattsupwiththat.com/2015/08/06/the-pause-draws-blood-a-new-record-pause-length-no-warming-for-18-years-7-months/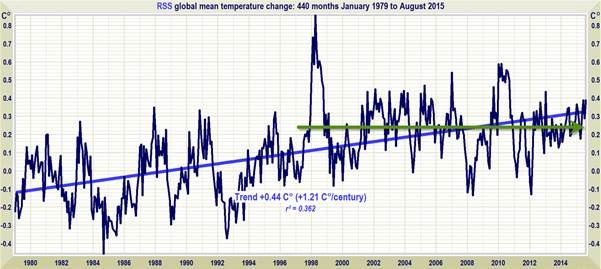 From un-tampered RSS satellite datasets http://www.remss.com/research/climate
The graph shows the entire RSS (lower-troposphere ) satellite dataset for the 440 months January 1979 to August 2015, with the blue trend on the entire series equivalent to just over 1.2 °C rise/century.
The overlaid graph in green is the zero trend in the 224 months since January 1997 – more than half the entire 440-month record.
"Our planet is cooking & heating up & warming" Aaron Mair President of the Sierra Club 2015
You must see his expertise at work here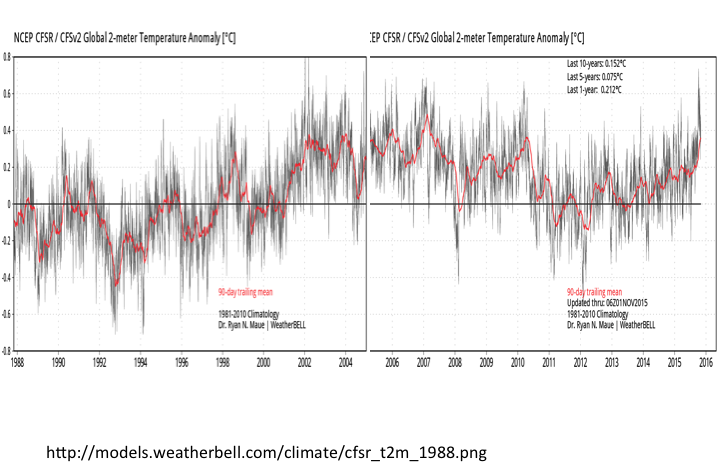 See also http://models.weatherbell.com/
Climate scientists are getting increasingly fed up with the main global warming skeptic – See here.