Weather patterns have always changed
Look at Africa: 9,000 years ago & today –
https://stevengoddard.wordpress.com/2015/11/30/why-obamas-paris-conference-and-epa-regs-are-a-complete-farce/#comment-556003
Europe: 1,000 & 700 years ago compared to now – http://www.co2science.org/subject/e/summaries/europemwp.php & https://en.wikipedia.org/wiki/Little_Ice_Age
Heat & drought
"[By] 1995, the greenhouse effect would be desolating the heartlands of North America and Eurasia with horrific drought, causing crop failures and food riots…[By 1996] The Platte River of Nebraska would be dry, while a continent-wide black blizzard of prairie topsoil will stop traffic on interstates, strip paint from houses and shut down computers." Michael Oppenheimer, 1990
Do you remember any of that happening ?… I don't.
Cyclones & hurricanes
"Models indicate that climate change will cause more frequent and intense hurricanes" Smithsonian
So, how long is it since a major hurricane (defined as a Category 3 or above) made landfall in USA?
~ 11 yrs so far. ( Hurricane Wilma October 24, 2005 ) http://www.aoml.noaa.gov/hrd/tcfaq/E23.html
"Cyclones & hurricanes will be more powerful & frequent" – Kerry Emanuel MIT, 1987.
But see what's actually happened –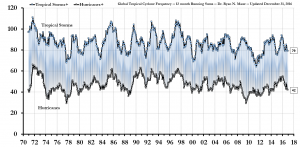 Less powerful & lightly less frequent !
And the insurance industry, who know a thing or two about natural disasters, say – "Lower losses from weather extremes   It is, however, impossible to predict what will happen in any individual year."
See more in the Wild Weather Page